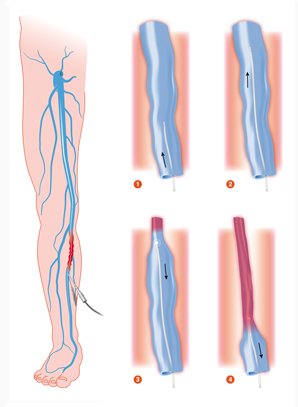 In many countries, Endovenous techniques (especially Laser Ablation and Radiofrequency Ablation) are replacing, or have replaced, the traditional surgical "stripping" of veins. The reasons for this are that both these procedures can be done as an office procedure (walk-in, walk-out) and has less risk than surgery. They also do not have the recovery time associated with surgery. The long term results of these procedures are excellent. Importantly the recurrence rate of new varicose veins after surgery, which is often very concerning for patients, is avoided by these non surgical procedures.
The technique of Endovenous Laser Ablation consists of placing a small, cool laser fibre up the middle of the vein. This fibre is then very slowly withdrawn from and the laser energy from the tip of the fibre then heat seals as it is withdrawn. (Pictured on the right.) The laser is introduced via a 3-4 mm cut (done under local anaesthetic) and the procedure itself is also done under local anaesthetic.
Normal walking is possible straight away as the local anaesthetic is not into the muscles but only placed around the vein being treated. The actual laser treatment is painless although some patients report a mild buzzing sensation. Radiofrequency Ablation is very similar.